---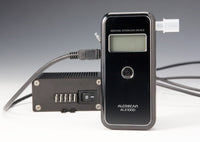 ALX1000 is an Electrochemical Fuel Cell sensor based interlock breathalyser supplied with an ignition interlock for connecting to the ignition of a vehicle, bus or truck.

Upon getting into the vehicle with the ALX1000 installed, the driver is required to blow into the breathalyser to be tested for alcohol. Depending on the result of analysis the ignition interlock will allow the vehicle to start or not. 

Alcoscan ALX1000 is suitable for trucks, busses, taxis and fleet managed vehicles to ensure that drivers do not drive while under the influence of alcohol.

This system can be incorporated with the tracking systems for vans, busses and trucks.
The Interlock is available in both 12V and 24V options. Please specify upon order which voltage is required.
Includes a 12 month calibration certificate.
Annual calibration is recommended.
Category
Contents
Indication of B.A.C
0.00 to 0.40% B.A.C. or mg/l equivalent by LED display
Accuracy
+/-0.010%BAC at 0.050%BAC
Mouth piece
5 supplied with unit and additional mouthpieces available
Sensor
Fuel Cell type alcohol sensor
Power supply
Two 1.5V "AA" Alkaline batteries and power when connected to Interlock Device
Weight
100g (Including batteries)
Dimension (mm)
105 (height) X 50 (width) X 18
Remarks
- Auto power off
- Battery Low indication

 


- CE, FDA approval

 


- Air flow rate checking

 



The Interlock device can be installed by an auto electrician and the pricing given does not include any installation costs.

WE RECOMMEND THAT YOU ADD A PACK OF 100 MOUTHPIECES TO YOUR ONLINE SHOPPING CART WHEN ORDERING OR BUYING THIS PRODUCT