---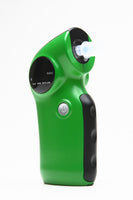 AL6000 Lite is a hand held breathalyser used to check breath alcohol concentration.

AL6000 Lite is suitable for both personal use and in small workplaces for random alcohol testing with limited daily to monthly alcohol testing.
Includes a 12 month calibration certificate.

Annual or bi-annual re-calibration is recommended depending on your company policy or legislative regulation in force.
Spec
Detail
Indication of B.A.C
Normal Mode Only: 0.00 to 0.40% B.A.C. or mg/l equivalent by LED display
Accuracy
+/-0.010%BAC at 0.050%BAC
Mouth piece
5 supplied with unit and additional mouthpieces available
Sensor
Semiconductor type alcohol sensor
Power supply
Two 1.5V "AA" Alkaline batteries
Weight
115g (Including batteries)
Dimension (mm)
124 (height) X 56 (width) X 41
Note
Auto power off
Battery Low indication

 


Air flow rate checking

WE RECOMMEND THAT YOU ADD A PACK OF 100 MOUTHPIECES TO YOUR ONLINE SHOPPING CART WHEN ORDERING OR BUYING THIS PRODUCT