---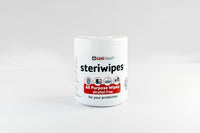 Steriwipes are safe for use on fingers, hands and surfaces and especially suitable for biometric and breathalyser cleaning and sanitising. Hygienic, convenient and effective. Steriwipes are disposable & bio-degradable.
May also be used for telephones, computer keyboards and other office equipment. 

Use one wipe for multiple cleaning; discard when the wipe is visibly dirty or is no longer moist.
EN14776 Certified to kill Covid-19
Byowipe fluid SABS 1853 
NRCS registration: Act29GNR529/259757/040/853 
500s Tub size: 115mm x 90mm 
500s Tub weight: 500grams