---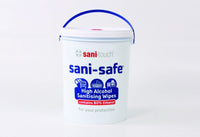 High Alcohol 80% ethanol perforated hand & surface wipes for instant sanitizing of hands & surfaces. Sanisafe Wipes are made from polypropylene non-woven fabric.
Contains Sanispray fluid, 80% Ethyl alcohol and 0.2% Benzalkonium chloride. (SABS 490 & SABS 1853 approved)
EN14776 Certified to kill Covid-19
Tested against E.coli, P.aeruginosa, S.aureus, MRSA.
@ 5, 10 & 60 second kill times.
Fluid recommended as a Tuberculocidal.
Fluid pH 6-8
NRCS registration: Act5GNR529/288592/090/0782
Bucket Size: 190 mm diameter x 235mm height
Weight: Approx 3.5kgs.
Wipe size: 140mm x 200mm each. 5l bucket.